Diamond Burs – Features and Benefits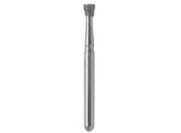 Features and Benefits of Johnson-Promident Diamond Burs
Johnson-Promident diamond burs are available in a wide range of sizes and grits, for every procedure. They are manufactured to the highest international standards, using the best quality materials. Each bur is microscopically tested to ensure that it is 100% controlled.
FEATURES
BENEFITS
BETTER PLATING PROCESS

Our plating method ensures that the diamond surface is homogenized, with no "bald" areas and equal distribution of bond matrix and grit.

Minimal pressure required on the turbine
Prepared tooth surface is homogenous
Concentric, balanced bur with long-lasting cutting ability
Diamond sharpness is maximized

BETTER MATERIALS

Top quality materials. Swiss-made steel blanks, hardened, turned, and ground. Specially-made mix of natural diamond grits.

Maximum precision and minimum vibration
Superior cutting efficiency and long instrument life
Rapid, smooth, and comfortable cutting

BETTER SELECTION

Over 100 shapes and sizes in a wide range of grits
Johnson-Promident is your one-stop shop for diamond
GUARANTEED QUALITYManufactured under the highest international standards, with each bur microscopically tested to ensure 100% control.
Worry-free
Johnson-Promident diamond burs recently received a 4.2 "Recommended" rating in an independent evaluation by Dental Product Shopper magazine, with 93% of evaluators rating their overall satisfaction as Excellent or Very Good.
Sample comments from evaluators: "Best burs yet." "They work well, last long, and cut easily." "These burs are built to last."