Carbide Burs – Features and Benefits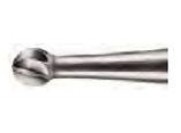 FEATURES
BENEFITS
HIGH QUALITY

JP carbide burs feature high quality tungsten carbide tips that are brazed onto the neck of a stainless steel shank.
STRONGER

This exceeds the international standard required for load bearing, maximizing the strength of the burs and reducing the risk of breakage.

HIGH CONCENTRICITY

This increased strength and high concentricity of the shank ensures an even tooth preparation.
MORE EFFICIENT

And also means the cut is more efficient, causing less trauma to the tooth and less stress for the patient.
CAREFUL DESIGN

JP carbide burs are designed to cut sharper angles with a greater blade contact on the tooth surface.
IMPROVED PERFORMANCE

This gives a fast, smooth, vibration free performance, reducing patient discomfort as well as operative time.
MADE TO STRICT TOLERANCES

Complying with international standards, JP burs are manufactured to strict tolerances, eliminating any defects.
IMPROVES LIFE OF HANDPIECES

This places less stress on the handpiece and reduces the risk of early chuck failure.
HARD WEARING

JP burs are made from high grade, fine grain tungsten carbide, crafted to resist wear, chipping and breakage.
LONG LASTING VALUE FOR MONEY

This produces a longer lasting, durable bur, which is cost effective and value for money
WIDE RANGE

The wide range of JP carbide burs accommodate individual preferences and cover a multitude of applications.
ONE STOP SHOP

This enables you to buy all your requirements from one source.